Back to Products & Services
Compliance Roundtable
Compliance Education | Compliance Professional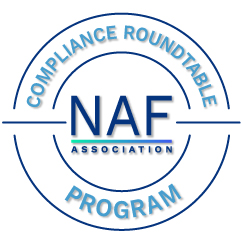 Completion of the Consumer Credit Compliance Certification program has proven to be a very effective way for professionals in our industry to gain expertise in compliance-related issues. In response to a growing demand by graduates of this program, the National Automotive Finance Association has developed a way to further enhance participants' learning experience on an ongoing basis.
The Compliance Roundtable Program provides a peer-to-peer learning environment with fellow members, who hold similar positions, and deal with similar challenges. It offers a forum where participants can collaborate to solve problems together, and — with access to a group-sponsored List Serve — remain in contact between meetings and new this Fall, our online community for group members. For many finance companies, the benefits of this type of alliance can have a dramatic effect on reducing legal compliance costs.

Program Costs (renews annually):
Graduates of NAF Association member companies: $2000.
Graduates of non-member companies: $3000.

Compliance Roundtable Program Details:
3 Quarterly Virtual Meetings & 1 In-Person Meeting;
Moderated by a Hudson Cook attorney;
Open to Certified Consumer Credit Compliance Professionals only;
Meeting attendance counts towards recertification, with each meeting earning 2 recertification credits;
Members have access to a private email communication service (List Serve) where communication on compliance issues can occur among members between meetings.
COMING SOON - Online Community Portal: Introducing an exclusive online Compliance Roundtable community to further enhance your engagement and interaction with fellow members. The platform will provide you to communicate, share documents, conduct polls, and discuss compliance issues in real time between meetings, fostering continuous learning and collaboration.
Non-Member Price:
$3,000/yr
---