Back to Products & Services
Compliance Roundtable
Compliance Education | Compliance Professional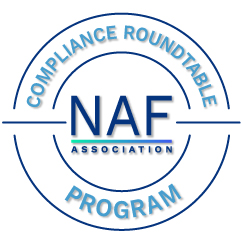 Completion of the Consumer Credit Compliance Certification program has proven to be a very effective way for professionals in our industry to gain expertise in compliance-related issues. In response to a growing demand by graduates of this program, the National Automotive Finance Association has developed a way to further enhance participants' learning experience on an ongoing basis.
The Compliance Roundtable Program provides a peer-to-peer learning environment with fellow members, who hold similar positions, and deal with similar challenges. It offers a forum where participants can collaborate to solve problems together, and — with access to a group-sponsored List Serve — remain in contact between meetings. For many finance companies, the benefits of this type of alliance can have a dramatic effect on reducing legal compliance costs.
The Compliance Roundtable Program is open to five (5)* certification graduates attendees from the same company.

Program Costs (renew annually):
Graduates of NAF Association member companies: $1500. 
Graduates of non-member companies: $2000.

Compliance Roundtable Program Details:
Quarterly Virtual Meetings;
Moderated by a Hudson Cook attorney;
Open to Certified Consumer Credit Compliance Professionals only;
Meeting attendance counts towards recertification. Each meeting counts as 3 recertification credits;
Members have access to a private email communication service (List Serve) where communication on compliance issues can occur among members between meetings.
Non-Member Price:
$2,000/yr
---