Award Program
The 2024 award portal will open early next year
The Jack Tracey Pinnacle Award
The National Automotive Finance Association is proud to recognize professionals that have made remarkable contributions to the benefit of the non-prime auto finance industry.
The Jack Tracey Pinnacle Award is named in honor of one of the organization's founders and its first and long-serving executive director. Jack will always be remembered as a founder, leader, and fierce advocate for the non-prime automotive lending industry.
The 2023 Jack Tracey Pinnacle Award, sponsored by RepoSystems, will recognize a professional at a member organization with enduring service to the non-prime auto finance industry.
Individuals nominated for this award should have an extensive record of service to a NAF Association member company that is substantive and encompasses a productive, voluntary effort exceeding the duties of regular employment. A nominee's service record will reflect having produced a positive impact beyond an individual company.
Submissions may include self-nominations. The Awards Committee will review applications and recommend the recipient to the full NAF Association Board of Directors.
The award winner will be announced and recognized at the 2023 Non-Prime Auto Financing Conference in June.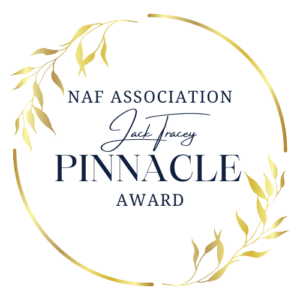 Nominations now being accepted between March 1 – April 15, 2023.
2023 Award Program Sponsored By