Award Program
The Jack Tracey Pinnacle Award
The National Automotive Finance Association is proud to recognize professionals that have made remarkable contributions to the benefit of the non-prime auto finance industry.
The 2023 Jack Tracey Pinnacle Award, sponsored by RepoSystems, will recognize a professional at a member organization with enduring service to the non-prime auto finance industry.
Individuals nominated for this award should have an extensive record of service to a NAF Association member company that is substantive and encompasses a productive, voluntary effort exceeding the duties of regular employment. A nominee's service record will reflect having produced a positive impact beyond an individual company.
Submissions may include self-nominations. The Awards Committee will review applications and recommend the recipient to the full NAF Association Board of Directors.
The award winner will be announced and recognized at the 2023 Non-Prime Auto Financing Conference in June.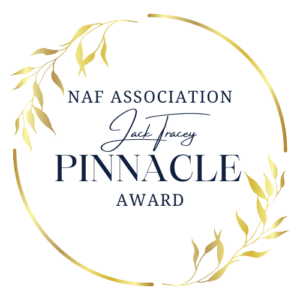 Nominations will be accepted between March 1 – April 15, 2023. Please check back for updates!